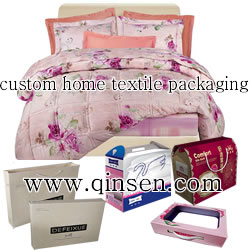 Design Packaging for Home Textitle Product!!!
In order to better service for you, we collected and introduced various Home Textile Packaging product photo/design for your reference.Please note that we do not show our client's customized product. if you are interested, we will custom made Home Textile packaging for you.
Those packaging all used for The Home Textile,such as bedding,quilt,comforter,duvet cover,quilt cover,comforter shell,sheet set,flat sheet,fitted sheet ,pillowcase,sham,housewife pillowcase,Valance,oxford pillowcase,Pillow Sham,bedskirt,Pillow Case,petti skirt,mattress, (toss) pillow,Cushion,cushion cover,breakfast cushion,bumper,Curtain,Boudoir Pillow,Neck Roll,Bed Sheet,sheet,bedsheet,flat Sheet,Fitted Sheet,Bed Cover ,BED SPREAD ,Fitted Sheet,Bed Spread; Bed Skirt,Pillow Towel,Tablecloth,Throw,Woolen Blanket,Towel Blanket,Sleeping bag; Fleabag ,bedclothes.