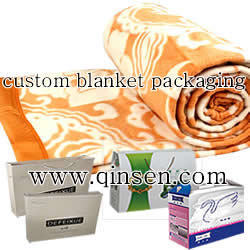 Design Packaging for blanket Product!!!
In order to better service for you, here, we collected and introduced various
Blanket Packaging
product photo/design for your reference.Please note that we do not show our client's customized product. if you are interested, we will custom made Quilt Packaging for you.
What is Blanket?

A blanket is a type of bedding, generally speaking, a large piece of cloth, intended to keep the user warm, especially while sleeping. Blankets are distinguished from sheets by their thickness and purpose; the thickest sheet is still thinner than the lightest blanket.

Blankets are generally used for warmth, while sheets are for hygiene, comfort and aesthetics. Blankets are subdivided into many types, including quilts, duvets, and comforters, depending on their thickness, construction and/or fill material.

Blankets were traditionally made of wool because of wool's warmth, breathability and natural fire-retardant properties, while sheets were made of cotton or linen, which are less irritating to the skin. Nowadays, synthetic fibers are frequently used for both. Throw blankets are smaller blankets, often in decorative colors and patterns, that can be used for extra warmth outside of bed. Blankets are sometimes used as comfort objects by small children.