Bikini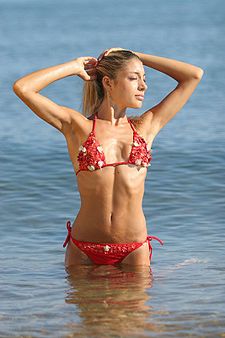 Woman wearing a red flowered bikini
This article is about the women's bathing suit.

Model wearing a bikiniThe bikini is typically a women's swimsuit, either a one-piece or a two-piece. For the two-piece, one part of the attire is covering the breasts; the other the groin and, optionally, part or all of the buttocks, leaving an uncovered area between the two. The bikini is often worn in hot weather, while swimming or sunning. A bikini is often worn as an undergarment to the wetsuit for waterskiing, scuba diving, surfing, and wakeboarding. The shapes of both parts of a bikini resemble women's underwear, and the lower part can range from revealing thong or g-string to briefs and modest square-cut shorts. Merriam®CWebster's Collegiate Dictionary (11th edition) describes the bikini as "a woman's scanty two-piece bathing suit", "a man's brief swimsuit" and "a man's or woman's low-cut briefs".
While two-piece bathing suits had been worn on the beach before, the modern bikini was invented by French engineer Louis R®¶ard in 1946. He named it after Bikini Atoll in the Pacific, the site of the Operation Crossroads nuclear weapon tests in July that year.[citation needed]
The bikini is perhaps the most popular female beachwear around the globe, according to French fashion historian Olivier Saillard due to "the power of women, and not the power of fashion". As he explains, "The emancipation of swimwear has always been linked to the emancipation of women." By the mid 2000s bikinis had become a $811 million business annually, according to the NPD Group, a consumer and retail information company.The bikini has boosted spin-off services like bikini waxing and the suntanning industries.
Bikini variants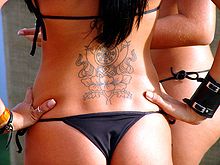 String bikini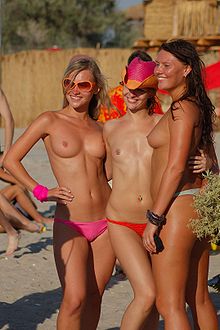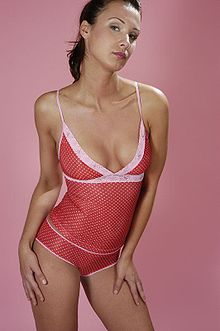 The bikini has spawned many stylistic variations. A regular bikini is defined as a two pieces of garments that cover the groin and buttocks at the lower end and the breasts in the upper end. Some bikinis can offer a large amount of coverage, while other bikinis provide only the barest minimum. Topless variants may still be considered bikinis, although technically no longer two-piece swimsuits.Along with a variation in designs, the term bikini was followed by an often hilarious lexicon including the monokini (top part missing), seekini (transparent bikini), tankini (tank top, bikini bottom), camikini (camisole top and bikini bottom) and hikini. Since fashions of different centuries exist beside one another in early 21st century, though it is possible to imagine a woman combining a bikini and a 1910 bathing costume.
Bikini tops come in different styles and cuts, including a halter-style neck that offers more coverage and support, a strapless bandeau, a rectangular strip of fabric covering the breasts that minimizes large breasts, a top with cups similar to a push-up bra, and the more traditional triangle cups that lift and shape the breasts. Bikini bottoms vary in style and cut and in the amount of coverage they offer, coverage ranging anywhere from complete underwear-style coverage, as in the case of more modest bottom pieces like briefs, shorts, or briefs with a small skirt-panel attached, to almost full exposure, as in the case of the thong bikini. Skimpier styles have narrow sides, including V-cut (in front), French cut (with high-cut sides) and low-cut string (with string sides). In just one major fashion show in 1985 were two-piece suits with cropped tank tops instead of the usual skimpy bandeaux, suits that are bikinis in front and one-piece in back, suspender straps, ruffles, and daring, navel-baring cutouts. Subsequent variations on the theme include the monokini, tankini, string bikini, thong, slingshot, minimini, teardrop, and micro.
Bikini underwear
Types of underwear worn by both men and women are identified as bikini underwear, similar in size and revealing nature to the bottom half of a bikini bathing suit. For women, bikini underwear can refer to virtually any tight, skimpy, or revealing undergarment that provides less coverage to the midsection than traditional underwear, panties or knickers. For men, a bikini is a type of undergarment that is smaller and more revealing than men's briefs.
Sports bikini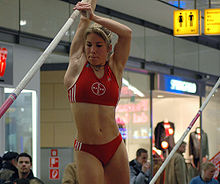 German pole vaulter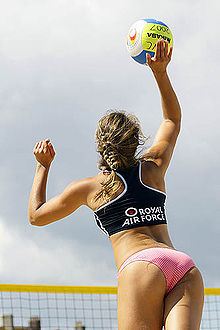 Sports bikini in Beach Volleybal

There is evidence of ancient Roman women playing Expulsim Ludere, an early version of handball.Female athletes who play beach volleyball professionally usually wear two-pieces. These bikinis are designed with functionality rather than fashion in mind.
Beach volleyball
In 1994, the bikini became the official uniform of women's Olympic beach volleyball, sparking controversy, with some sports officials considering it exploitative and unpractical in colder weather,and athletes admitting that the regulation uniform is intended to be "sexy" and to draw attention.Dancers, sex appeal and bikinis worn by women players as much as athletic ability made beach volleyball the fifth largest television audience of all the sports at the Games at Bondi Beach in Australia in 2000 Olympics.The popularity of Dead or Alive: Xtreme Beach Volleyball, a video game for Xbox, was attributed to the scantily clad women.
Athletics
Often the women in the sport of athletics also wear bikinis, not much larger than in beach volleyball. Amy Acuff, a US high-jumper, wore a black leather bikini instead of a track suit, at Sydney 2000 Summer Olympics.Runner Florence Griffith-Joyner mixed bikini bottoms with one-legged tights in Seoul 1988 Summer Olympics, which earned her more attention than her record breaking in Women's 200 meters.Towns like Porto Seguro in Brazil has become an attraction for beach athletics in bikini for the tourists.
Controversy
Skimpy bikinis are a major component of marketing women's sports, raising objections. In 2007, fans voted for contestants in the WWE Diva contest after watching them playing beach volleyball in skimpy bikinis. In the 2004 and 2008 Olympic Games, inclusion of bikini-clad athletes raised eyebrows, while a controversy broke out around bikini-clad cheerleaders performing at a beach volleyball match.Bikinis stirred up a controversy at the 2006 Asian Games at Doha, Qatar, and the Iraqi teams refused to wear such clothing.In the 2007 South Pacific Games, players were made to wear shorts and cropped sports tops instead of bikinis. In the West Asian Games 2006, bikini-bottoms were banned for female athletes, who were asked to wear long shorts. String bikinis and other skimpy clothes are also common in surfing, paving the way for some hooliganism in the past.
Men's bikini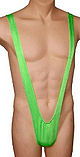 The term men's bikini describes men's swimsuits, men's underwear, or similar garments. Men's bikinis can have both high or low side panels, string sides or tie sides, and most lack a button or flap front. Many do not have a visible waistband like briefs. Suits less than 1.5 inches wide at the hips are less common for sporting purposes and are most often worn for recreation, fashion, and suntanning. An example of this style, known as the posing brief, is the standard for competitions in the sport of bodybuilding. Male punk rock musicians have performed on the stage wearing women's bikini briefs. The 2000 Bollywood film Hera Pheri shows men sunbathing in bikinis, who were mistakenly believed to be girls from a distance by the protagonist.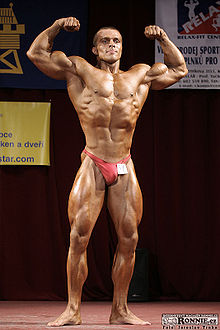 Swimsuits shown in men's wear collections by Giorgio Armani, Dolce & Gabbana or Paul Smith have tended to be black and snug fitting, throwbacks to the designs of the 1930s and '40s, while Gianni Versace's ads with their heroic depictions of Miami bathers in contrast to popular, sports-inspired beach wear°™bright and baggy Bermudas or boxer shorts. The Greek designer Nikos Apostolopoulos put a different spin on his bathing suits (for both sexes, but with the focus on the male), making them anatomical creations, cut and stitched to outline the body and its sexual characteristics. Bikini tops for men are seen as an amusement factor.
Mankini
Mankini is a type of sling bikini worn by men. It was made widely known by Sacha Baron Cohen when he donned one in the film Borat. The buzz around the film started building during the Cannes Film Festival in May 2006, when Baron Cohen posed in character on the beach in a neon green mankini, alongside four models. According to one fashion expert, suspenders combined with bikini briefs or panties form an unaesthetic pattern.